Our Story

Celebrating Handmade Beauty
with authentic fair trade crafts that bring joy!
In 1998, as an American-Peruvian team, Don and Alessandra had a bold idea: "What if we could share the best Peruvian folk art with the world and create opportunities for talented artists while putting our creativity and skills to good use?"
Fast forward 23 years later, Lucuma Design's passion and commitment to handmade and our desire to help uplift people continues to grow with each new relationship we start. Today, thanks to our artist partners' high quality work, our handmade gift collections and folk art may be found in over 500 specialty stores in the US, Canada, and in few other places around the world.
Our Mission
With artistic collaboration and long-term personal relationships, Lucuma Designs seeks to create opportunities for talented artists in Peru and Costa Rica so they can help their families and communities. Our love for Mother Earth drives us also to pursue greater harmony in what we do hoping to inspire others to do the same. Through Fair Trade, we empower artists, buyers and consumers to build together a kinder and more beautiful world!
Lucuma Designs is a proud member of the
Fair Trade Federation
 and the 
1% for the Planet
 network.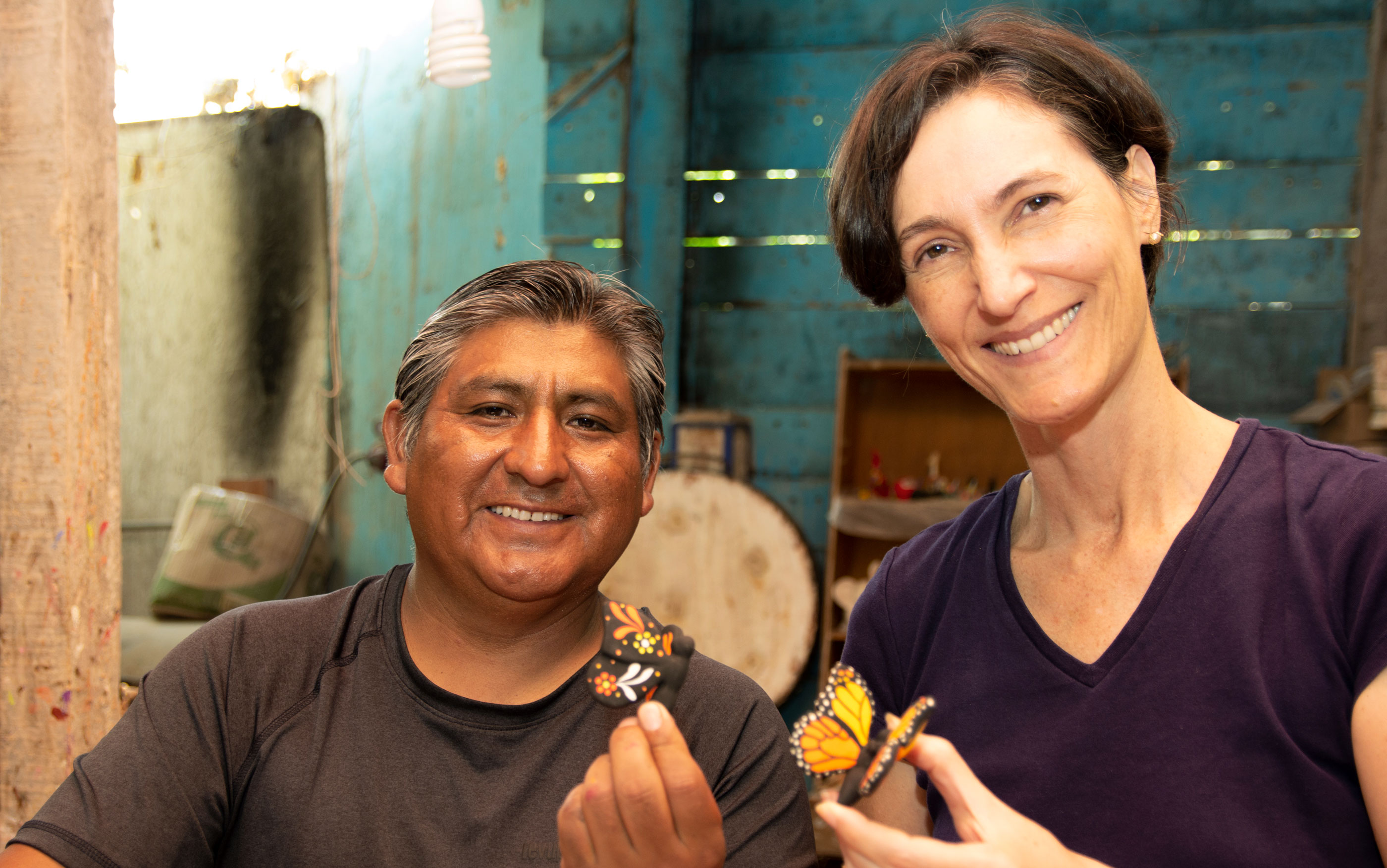 Facts
Celebrating Handmade Beauty represents our core commitment to honor all that is made by hand, with its inherent creativity and authenticity. It also honors the humanity of something that naturally shares a little piece of the artist's soul, culture and tradition.
Artistic Collaboration fuels our exclusive collections. With an eye for sustainability and innovative ideas, our designers inspire our artist partners to always give their best and push for excellence in all they do. This way, their craftsmanship can shine and keep flourishing.
Artists from Peru

are organized within 20 groups and small family workshops throughout the country. With most, we have been working with on average for over 15+ years. The Gourd artists are mostly from Cochas, in the Mantaro valley in the central Andean region. Knitters live in the South, in the soundings of Lake Titicaca near Puno. Ceramists live in Lima or Arequipa, and the alabaster artists are in Ayacucho.

The Borucan artists from Costa Rica we represent since 2017, is a collective of 15 artists from the indigenous community of Boruca. Their impressive finely carved and painted masks give testimony of their amazing talent and rich cultural heritage.
Women  represent over 80% of the artists we work with. This matters to us because it has been our experience that when women are given a chance to earn a living, they are likely to invest more fully in the well being of their families and children's education. Their work also empowers them to have a stronger voice within their households and communities.
"lucuma" is a tasty Peruvian fruit with a bright orange-yellow pulp that mirrors the vibrancy of our collections and of Peruvian Folk Art.
"Fair Trade" was an unknown term for us until we found and joined the FairTradeFederation.com in 1999. It was refreshing to discover we were not alone in our quest to make the world a better place. We are honored to be part of this amazing network of socially responsible companies doing beautiful work around the world.
1% for the Planet: in order to step our sustainability commitment and with a desire to give back to our Mother Earth, in 2018, we joined the 1% for the Planet network. This means, we are committed to donating a minimum of 1% of all of our sales to organizations working to heal and preserve our environment. 
Our wholesale collections may be found in over 500 stores including fair trade and specialty shops, museums, botanic gardens, nature centers, galleries and boutiques across the US, Canada and few other places around the world.